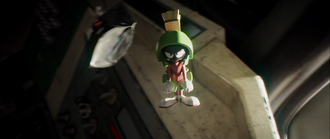 Marvin the Martian
is a Looney Toons character. 
Role in Gravity
Edit
A Marvin the Martian toy is seen floating out of the Explorer space shuttle and into the vacuum of outer space, distracting Dr. Stone from the dead bodies of Evans and Thomas nearby in Gravity. 
This is a reference to the many films that feature him in outer space.
Ad blocker interference detected!
Wikia is a free-to-use site that makes money from advertising. We have a modified experience for viewers using ad blockers

Wikia is not accessible if you've made further modifications. Remove the custom ad blocker rule(s) and the page will load as expected.